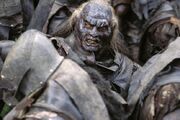 Os Uruk-hai, uma variação dos Orcs, são criaturas criadas por John Tolkien na sua famosa série de livros. Nessa saga, são comandados por Sauron e pelo feiticeiro Saruman.
Contudo, supõe-se que, na Saga do Facebook Sem Nome, pertençam ao Império de Vralack, visto que, na Epopeia (a única versão onde aparecem), um grupo destas criaturas invade a Vila Pneu de Salsichas, no Número 6. É possível que este grupo tenha acabado por morrer nessa vila, devido à explosão que a destruiu.
Ad blocker interference detected!
Wikia is a free-to-use site that makes money from advertising. We have a modified experience for viewers using ad blockers

Wikia is not accessible if you've made further modifications. Remove the custom ad blocker rule(s) and the page will load as expected.